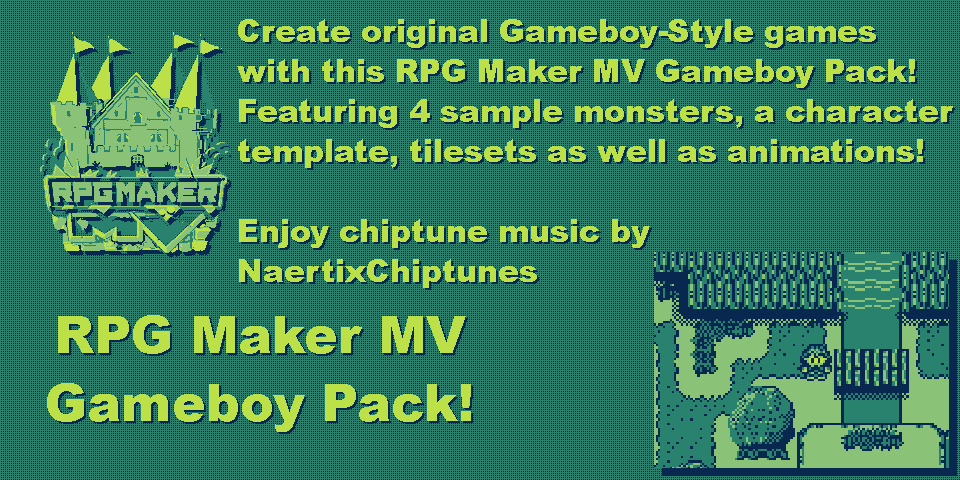 RPG Maker MV Gameboy Pack
A downloadable asset pack
Get this asset pack and 1 more for $3.50 USD
View bundle
About
This is a DLC pack that gives you Gameboy-like graphics/audio for RPG Maker MV. This pack gives you the ability to create dungeons, outside maps, inside maps and world-map maps. This pack comes with a template character as well that you can edit from. When editing, use this palette to avoid possible color errors.

You can use this pack commercially or non-commercially.
Get this pack as well as my other DLC's for only $1 by supporting me on patreon: https://www.patreon.com/willtheunpro
Contents
Audio/

bgs/

GBP_Alarm.ogg
GBP_Alarm2.ogg

music/

blue.ogg
GB1.ogg
GB2.ogg
GB3.ogg
GB3FANFAREONLY.ogg
GB3NOLOOP.ogg
GB4.ogg

se/

GBP_Back.ogg
GBP_BattleStart.ogg
GBP_BattleStart2.ogg
GBP_Confirm.ogg
GBP_Cursor.ogg
GBP_Equip.ogg
GBP_Error.ogg
GBP_Error2.ogg
GBP_Explosion.ogg
GBP_Hit.ogg
GBP_Hit2.ogg
GBP_Hit3.ogg
GBP_Hit4.ogg
GBP_Hit5.ogg
GBP_Item1.ogg
GBP_Item2.ogg
GBP_Machine.ogg
GBP_Machine2.ogg
GBP_Wallbump.ogg

Img/

animations/

GBP_Anims1.png
GBP_Anims2.png
GBP_Anims3.png
GBP_Anims4.png

characters/

$Balloon.png
$Boat_Template.png
$GBP_Crystal.png
$GBP_Door.png
$Sprite_Template.png

enemies/

Bat.png
Bee.png
Slime.png
Slime2.png

pictures/
sv_enemies/

Bat.png
Bee.png
Slime.png
Slime2.png

system/
tilesets/

GBP_A1.png
GBP_A1_Alt.png
GBP_A1_Cave.png
GBP_A1_World.png
GBP_A2.png
GBP_A3.png
GBP_A4.png
GBP_A5.png
GBP_B.png
GBP_C.png
GBP_D.png
GBP_E.png

special/
README.txt
---
Contents of README.txt:
You can use this commercially or non-commercially. Please give credit. Thanks, and enjoy!
Credits: Tilesets by William Ramsey
Sprites by William Ramsey
Windowskin by William Ramsey
Sound Effects by William Ramsey
BGS by William Ramsey
Music by NaertixChiptunes (
https://www.youtube.com/channel/UCpvRZ0bKxYY1_vih8Jg8vqA/videos
)
Icon set by LittleGameDev
Purchase
Get this asset pack and 1 more for $3.50 USD
View bundle
In order to download this asset pack you must purchase it at or above the minimum price of $2.50 USD. You will get access to the following files: